White Salad » How to prepare Step by Step » Recipe
The white salad is an input of Peruvian gastronomy which can work well in many Peruvian dishes, however, it is not an appetizer that is found very often. Some restaurants offer this type of salad giving a more sophisticated appearance, however, it is not difficult to prepare, here we give you the recipe.
Prescription: White Salad Ingredients & Preparation 🛎️
Curiosities of the White Salad
A delicious salad always looks good as a companion to our meals, in this case the white salad is characterized by having a sweet and sour taste since it contains preserved fruits that give it a sweet touch.
In addition, we have the idea that salads are dietary dishes that help us cut fat because a curious fact about this salad is that it has Mayonnaise a high-fat ingredient I recommend not consuming it very often, but you can treat yourself.
How to prepare
Preparation: White Salad Recipe Step by Step ⌛
The first thing we will do is cook the vegetables and potatoes to chop into cubes.
Next we are going to chop the ham into cubes and we will also chop the Preserved fruits to reserve until ready to mix.
Once we have everything ready we mix all the ingredients in a container and add the mayonnaise and parsley.
White Salad Recipe
If you want to surprise your family with a different salad well here we give you white salad recipe that will be a great option. Preparation: 20 minutes Cooking: 10 minutes Total: 30 minutes portions: 2 people calories: -kcal
| | |
| --- | --- |
| salads | 20 minutes |
| 2 people | 10 minutes |
| -kcal | 30 min |
Ingredients
🎁 WATCH FREE VIDEO 🎁
Preparation
Learn to prepare a delicious WHITE SALAD with the next video 👇
Click here to see the FREE VIDEO of the recipe step by step!
STEP BY STEP PREPARATION OF WHITE SALAD 👇
#1: We start by cooking some of our ingredients
We place a pot in the kitchen where we will put boil a liter of water to start preparing our ingredients.
when there is started to boil let's add a teaspoon of salt, This ensures that the vegetables absorb the flavor.
Add to our pot 2 units of carrots chopped into small cubes and let boil for 3 minutes.
Now we will add the ½ cup of peas and we'll let them boil for about 6 more minutes.
When this time has passed let's strain the vegetables and we will put them in cold water to reserve.
In the same way in another pot let's boil the potatoes and when they are ready we will peel them and chop them into cubes.
#2: Now we prepare everything to mix the salad
We are going to cut the ham into cubes To do this, first we cut them into strips and then we cut the cubes evenly, the size should not be so small.
In the same way the pineapple and peach that come in the preserve we are going to chop them into cubes and reserve them.
#3: It is time to mix and flavor our white salad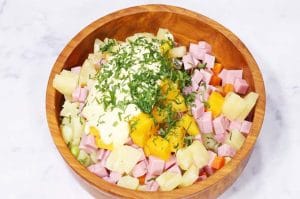 In a container or salad bowl we are going to place potatoes cut into cubes, ham, carrot, peas and fruit that we have already cut into cubes.
About all these ingredients let's pour the mayonnaise and we also spray chopped parsley. We remove all this and we have a delicious salad.
Tips: SEE PREPARATION TIPS 💡
preparation video
Learn step by step how to prepare this delicious WHITE SALAD RECIPE with the next video 👇
Click here to see the FREE VIDEO of the recipe step by step!
Prescription: WHITE SALAD ✔️

Font: To eat
Preparation Tips
Type 1: Putting the vegetables in cold water It is a great tip to cut the cooking and thus maintain vegetables al dente, also in this way We keep the color.
Type 2: If you want the mayonnaise you use for this salad to be healthier, you can prepare a homemade salad, this way you also calculate the light texture that is needed for this salad.
How to accompany?
You can accompany white salad with:
grilled meats
parboiled corn
pork chops
Did you know?
The white salad It is one of the most prepared recipes at Christmas time, so do not hesitate to prepare this recipe and have it ready for your Christmas dinner.
I hope you liked it our white salad recipe 😉
If you want to know other articles similar to white salad you can visit the category Fittings.